Provision of Barrier-free Services
Provision of Barrier-free Services
The Haneda Airport passenger terminals incorporate the concept of universal design in facilities development in accordance with the guidelines under Tokyo's Ordinance on Welfare Community Development and the New Barrier Free Law (established by the Ministry of Land, Infrastructure, Transport and Tourism). This concept has made our facilities friendlier to customers with various needs, including those with physical disabilities, the elderly and foreigners.
Leaflets on our barrier-free services, describing barrier-free facilities and services at the airport, are available to customers at our information desks.
Tactile Tiles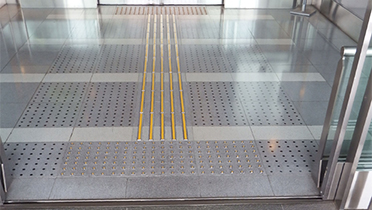 Tactile tiles are installed to guide visually impaired persons from the terminal entrance to major airport facilities and information desks through stairs and elevators.
Restrooms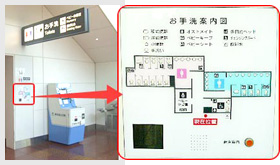 At the entrance to the restroom area is a tactile plate showing the restroom layout. There is no door at the entrance for ease of entry for people carrying baggage. Some of the men's and women's restrooms are equipped with Baby Rests—wall-mounted folding child seats—for parents entering restrooms with small children. Some men's/women's restroom areas provide a simplified multi-functional stall accessible to wheelchairs.
Multi-Functional Restrooms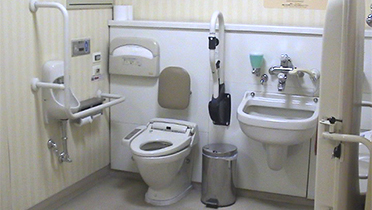 Our multi-functional restrooms have been renovated to install ostomy toilets for ostomy users. The spacious restroom is even friendly to care givers, with a folding bed for an adult.
[Qualified Personnel] 215 Care Fitters (as of September 2012)
Elevators and Escalators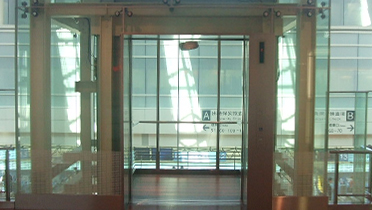 The elevator cages are equipped with an audio system to give voice guidance on each floor. Passenger elevator cages are large enough to accommodate two electric wheelchairs (with some exceptions).
For safety reasons, audio systems are also installed at both ends of the escalators to alert users as they get on and off.
Moving Walkways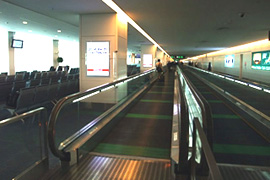 Moving walkways in Terminal 2 are wide enough (1.4 m) for pedestrians to walk beside a wheelchair. Lights and audio messages at both ends alert customers and help them safely get on and off. Each pallet has green lines to allow the elderly and people with weak eyesight to recognize the walkway's operating state and moving speed.
Building Information Displays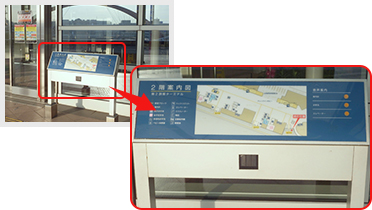 The building information displays showing major facilities are written in four languages (Japanese, English, Korean and Chinese). Pictograms (pictorial symbols) are used so that anyone can easily understand. Braille information displays equipped with an audio system to read out information are placed at the entrance of every terminal.