Guide to Facilities and Services
Guide to Facilities and Services
Our customer-friendly information desks and signage help visitors smoothly navigate through the Haneda Airport terminals, which are as large as 500,000 square meters, and find their destinations easily.
We help customers use our facilities and services comfortably and to their best convenience by letting information staff called Airport Concierges make the rounds of terminals to respond to diverse requests from customers and by operating free shuttle bus service between Terminal 1/2 and International Terminal.
Information Desk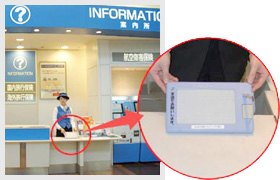 We entrust the entire passenger services to a passenger service provider to flexibly respond to the needs. There are six information desks in Terminal 1 and six in Terminal 2. These facilities help customers use passenger terminals comfortably, giving them the exact directions and information they need.
Among them, the Information Center on the first floor of Terminal 1 plays a key role, with its ability to delivering the right information at the right time through our public address and flight information systems, while giving directions and other information directly to customers.
Airport Concierge
The Airport Concierge is the name of our special airport guide staff. They have deep knowledge and information on the facilities and services available in our terminals and serve customers according to their varied needs. Airport Concierges are stationed along major customer traffic and make rounds along these routes. As soon as they spot customers in need of help, such as foreign travelers, visitors unfamiliar with the airport, and people with special needs, they gently talk to those customers with hospitality and assist them in traveling smoothly.
The Airport Concierge staff is expected to meet customers' needs optimally, based on our long years of experience in airport passenger services.
Free Terminal Shuttle Bus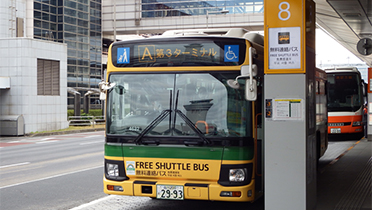 At Haneda Airport, free shuttle buses connect Terminal 1/2 with International Terminal at intervals of about five minutes. In an effort to contribute to global warming mitigation, we run hybrid, low-floor buses.