Efforts toward Disaster Preparedness and Crime Prevention
Efforts toward Disaster Preparedness and Crime Prevention
Our Disaster Management Center (DMC) is designed to ensure safety at passenger terminals with the ultimate goal of establishing absolute safety. It operates around the clock to conduct essential safety and security activities.
JAT is committed to preventing crimes (e.g., hijacking, act or terror) and accidents, as well as being ready to respond promptly and appropriately to any disaster, accident or other events. We have response manuals in place, periodically conduct drills with group companies and related departments, have well-established emergency procedures, and stockpile emergency supplies.
Collaborative Response by All Tenants
DMC implements awareness programs in day-to-day airport operations in order to help tenants fully understand the importance of passenger terminals as public infrastructure and the great extent of the impact of potential shutdown of the facilities. These efforts include organizing airport safety seminars, posting newsletters on disaster preparedness and safety, and raising staff awareness on the occasion of meetings.
DMC also serves as the secretariat of the Joint Fire Prevention Association, which all the tenants of the passenger terminals join. Our goal is that every worker in the passenger terminals, rather than only DMC officials, knows how to respond to an emergency. This is why we oblige our tenants to participate in general emergency drills, evacuation and fire drills and request them to take part in CPR training.
Dissemination of Standard CPR Training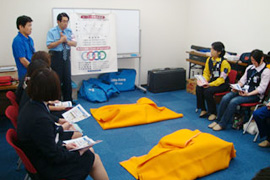 Being the secretariat of the Joint Fire and Disaster Management Association, DMC offers airport tenants standard CPR training taught by qualified JAT personnel along with CPR and first-aid professionals. The Center held 165 CPR training sessions between April 1995 and March 2015, and participants from tenants and JAT totaled approximately 2,030 people.
All the DMC officials have completed a senior CPR training course. They attend a refresher course every year, instead of every three years as usually required, in order to maintain and improve their CPR skills.
Installation of AED and Emergency SOS Telephone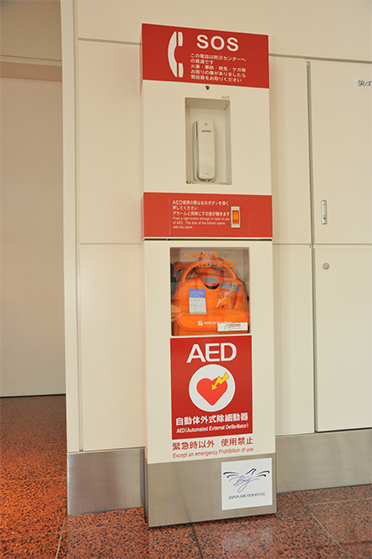 Since July 2004, ordinary citizens who are not medical professionals have been allowed to use the automatic external defibrillator (AED), which is a device to treat ventricular fibrillation, a quivering heart, caused by a serious irregular heartbeat or for other reasons. To save more people hit by this fatal heart attack, we installed a total of 73 AEDs across our facilities in December 2004: 33 in Terminal 1, 38 in Terminal 2, and two in the P1/P4 parking structures.
Beside each of these AEDs (with some exceptions) is an emergency SOS telephone that is directly connected to DMC.
Private Fire Brigade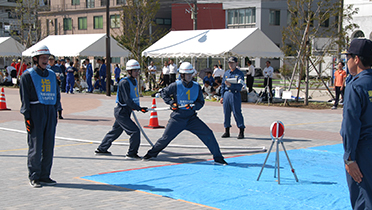 Each store at the airport conducts periodical fire drills and participates in partial training of the private fire brigade assigned to the area. Our private fire brigade members are highly aware of the significance of their service and responsibly carry out their duties, as demonstrated by the fact that both male and female teams of fire brigade members from stores and offices have participated in private fire brigade training contests organized by the Kamata Fire Station and won awards.
Medical and First-Aid Facilities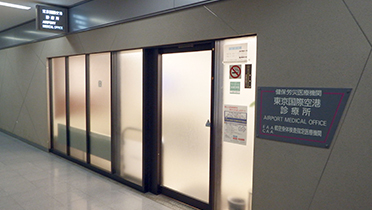 JAT has several facilities to help those who feel ill, including Tokyo International Airport Clinic and Terminal Dental Clinic in Terminal 1 and Toho University Haneda Airport Clinic in Terminal 2, as well as a temporary resting room.
A satellite station of the Airport Substation of the Kamata Fire Station was established on the first floor of Terminal 1 in May 2002, ensuring quicker response by paramedics in the event of a medical emergency in the terminal.
Earthquake Preparedness
To protect customers in our buildings in the event of an earthquake, we have an earthquake response manual in place and conduct periodical earthquake drills.
Emergency supplies, including emergency food, blankets and temporary toilets, are stockpiled for those customers who would stay in our buildings after an earthquake. Our staff is fully trained to handle these supplies through periodical drills.
Since June 2008, JAT has been providing Earthquake Early Warnings issued by the Japan Meteorological Agency (JMA) in an effort to alert customers and employees in our terminals just as an earthquake starts and to reduce potential damage from an earthquake. Our emergency public address system will announce a prompt warning throughout the buildings as soon as it receives from JMA an Earthquake Early Warning about a tremor with an intensity of a lower 5 or greater on the Japanese seven-stage seismic scale in the Haneda district.