We are eager to use natural energy through efforts such as installing solar panels on terminal roofs.
JAT aims to make Haneda Airport more eco-friendly.
Installation of Solar Power Systems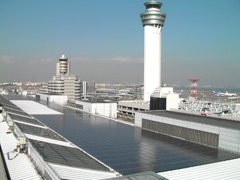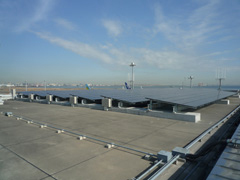 Recognizing the responsibility for the company engaged in the 24/7 operation of Haneda Airport passenger terminals, an important public infrastructure, JAT has installed solar power generation systems to contribute to CO2 emission reductions.
We will remain active in lightening the environmental impact of our terminal buildings.
(1) Four sites on the roof of Terminal 1 (1PTB)
(2) Two sites on the roof of Terminal 2 (2PTB)
Systems in Terminals 1 and 2 ········ March 2010
Outline of solar power systems
| Installation site | Installed area (m²) | Output (KW) | CO2 emission reduction (t CO2/yr) |
| --- | --- | --- | --- |
| 1PTB | 6,213 | 830 | 293 |
| 2PTB | 1,250 | 170 | 62 |
| Total | 7,463 | 1,000 | 355 |