Activities Focusing on Energy Conservation Measures
Activities Focusing on Energy Conservation Measures
Our key initiatives include replacing our air conditioning and lighting systems with eco-friendly types over the long term in accordance with a five-year plan for 2010-14, and supporting Japan's Cool Biz and Warm Biz campaigns across the Group facilities. We also meet the changing needs of the time by running low-emission buses and installing charging stations for electric vehicles.
Long-Term Effort Emphasizing Specific Equipment
The JAT Group has been carrying out special programs set for the following specific pieces of equipment since FY 2005 in accordance with Tokyo's anti-global warming measures, as described below.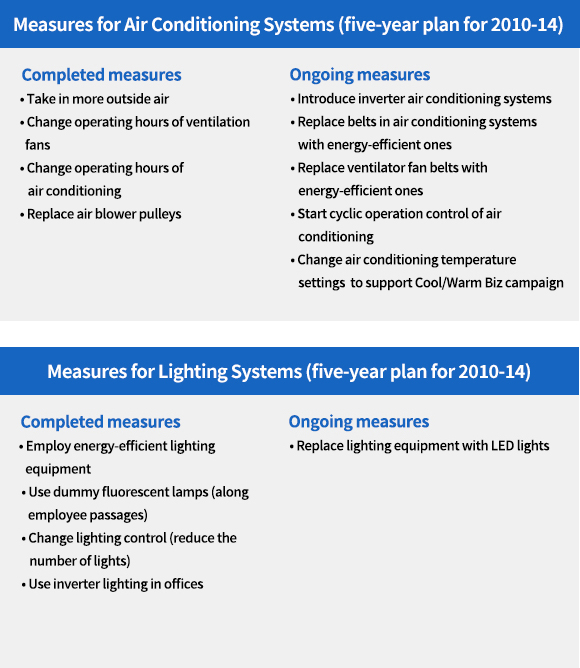 Use of Low-Emission (Hybrid) Buses for Free Shuttle Service within Haneda Airport
JAT and Haneda Keikyu Bus Co., Ltd. (a Keikyu Group company) run low-emission, low-floor buses for free shuttle service between Terminal 1, Terminal 2 and International Terminal at Haneda Airport.
These low-emission buses are diesel-electric hybrid vehicles that satisfy several environmental standards for vehicles, including the FY 2015 fuel efficiency standards for heavy-duty vehicles, low-emission standards for heavy-duty vehicles.
Establishment of Charging Stations for Electric Vehicles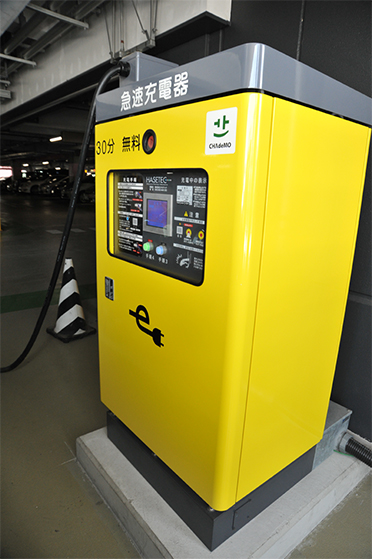 Six free charging stations (one fast-charging and five regular stations) for electric vehicles were installed in the P4 parking structure at Haneda Airport in October 2010. This demonstrates our intention of supporting the growing number of eco-friendly electric cars.
Electricity Saving Measures in the Aftermath of the Great East Japan Earthquake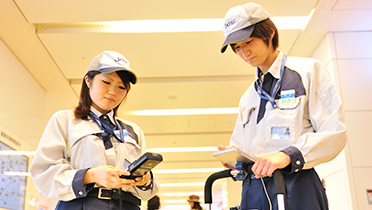 Japan has been facing concerns over power shortages across the country since the massive earthquake in 2011. JAT makes the following electricity saving efforts to contribute to energy conservation:
1. Air conditioning : Changing the output of air conditioning inverters and turning off some of the exhaust fans in air conditioning systems
2. Lighting equipment : Turn off some of the lamps in the lobby
Participation in Cool Biz and Warm Biz Campaigns
JAT supports the national Cool Biz campaign in summer and Warm Biz in winter by limiting the use of air conditioning in our corporate offices, tenant offices and public lobbies.
We flexibly change limits on temperature settings according to room conditions so that reduced use of air conditioning would not adversely affect work and health.
Campaign
Period
Target temperature setting
Cool Biz
May 11 to Oct. 31
Office areas: 28 degrees C, in principle
Public lobbies: 26-27 degrees C, in general
Warm Biz
Nov. 15 to Mar. 31
The target temperature setting for public lobbies is generally 22 degrees C but is subject to adjustment to ensure reasonable comfort.