Food Safety and Disaster Preparedness at Stores
Food Safety and Disaster Preparedness at Stores
Our directly operated stores in Haneda Airport passenger terminals aim to offer peace of mind for shoppers through strict food safety management. Salesclerks daily patrol in and around their stores and perform visual inspections of safety facilities, including emergency equipment and wall outlets.
These stores also voluntarily hold emergency drills and workshops on emergency response, demonstrating their strong commitment to disaster management.
Food Safety Management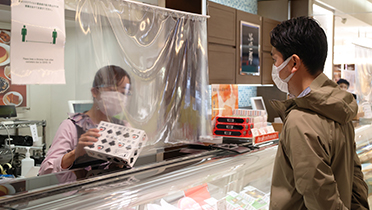 Our system to protect food safety is well-established, with rigorous self-imposed standards applicable to quality control and hygiene management. As part of this voluntary system, food sanitation advisors patrol stores on a weekly basis. Other efforts to fully ensure food safety at stores include sending personnel to seminars to learn about food sanitation, letting them acquire related qualifications, and educating salesclerks with food sanitation manuals.
Inspection of Emergency Facilities at Stores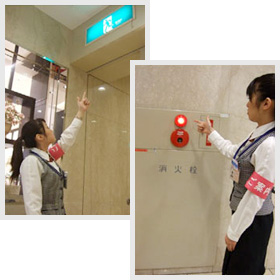 Activities to ensure safety are integrated into day-to-day work at stores. Store staff daily check wall outlets and tools (e.g., edged tools) in their facilities and inspect fire extinguishers, fire hydrants, exit signs and evacuation routes by pointing and calling before opening the store. During business hours, they conduct self-imposed safety checks around the store every two hours.
Evacuation Guide and Emergency Drills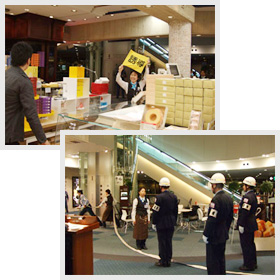 Our staff is trained to guide customers along the evacuation route quickly and properly in the event of a fire. Monthly fire drills involving evacuation guidance, reporting and fire extinguishing take place after store business hours.
Prior to busy seasons, such as Golden Week, summer holidays and year-end/New Year holidays, a crime prevention drill is held in cooperation with the Disaster Prevention & Safety Division.
Training to Handle Fire Extinguishers and Fire Hydrants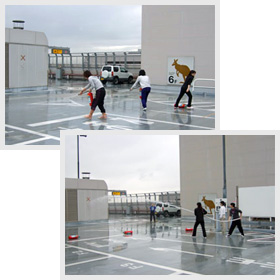 Training to learn how to use fire extinguishers and fire hydrants is provided for store clerks three times a year.
Through this training, we develop key fire prevention personnel who can promptly and appropriately act in the event of a fire and make ourselves prepared for any unexpected event.
[Major qualifications obtained]
Food Sanitation Manager
Food Sanitation Advisor
Fire Protection Manager